Business building has become an almost mandatory mandate for corporate innovation (see HERE). But companies are not good in corporate entrepreneurship; there are three root causes (see HERE). The Lean Scaleup addresses these root causes; thereby, the Lean Scaleup helps to solve the business building problem.
The Lean Scaleup is a framework, co-created by 20+ industry-leading companies and 2 globally leading business schools, that helps companies to increase their odds for building new businesses from within the company.
It provides a concise, non-jargon language to support corporate discussions. It brings transparency about where a corporate startup is on its innovation journey, what the next value inflection point will be, and what the activities are to get there. Hence, it can also be a building block for effective portfolio management.
The framework encapsulates Best Practices from leading companies. It shows corporate entrepreneurs what they need to do to validate that an innovation concept is "worthy to be scaled" and "ready to be scaled" and then create a sizable, profitable business from it.
In the words of bp's Member of the Executive Team, David Eyton, the Lean Scaleup helps business building by providing "a framework for taking promising new concepts to scale using the best ideas from venture capital and the Lean Startup world and make these work in a corporate context."
Big Idea 1: The corporate context
The frameworks for business building that most companies use trace back to Design Thinking and Lean Startup. They conceptualize the product and the business in growing maturity and validate customer desirability, technical/scaling feasibility and commercial viability.
These three dimensions are sufficient for a VC-backed, 'greenfield' startup. But they are not sufficient for a corporate startup that aims at building a new business inside a corporate. There is one dimension missing, the corporate context.
In other words, frameworks that help corporates to successfully build new businesses need to have four validation dimensions: Desirability, Feasibility, Viability and Contextuality.
The Contextuality dimension plays out in all stages of the innovation journey, from idea to scaling up the business:
From meaningful idea to validation "worthy to be scaled": Where to play – Relevant Hunting grounds; How to win: Corporate assets/capabilities and/or New Capabilities
Validation "Worthy to be scaled" / "Ready to be scaled": Vision/mission, key metrics aligned; Stakeholder buy-in; Suitable business / operating model; Suitable risk position; Estimated Scaling-Up budget doable
Transition to Scaling-Up: Alignment on collaboration during Scaling-Up; Best pathway to Scaling-Up; Aligning governance and funding
Scaling-Up: Executing on the collaboration model; Maintaining corporate attention for a 3–5-year journey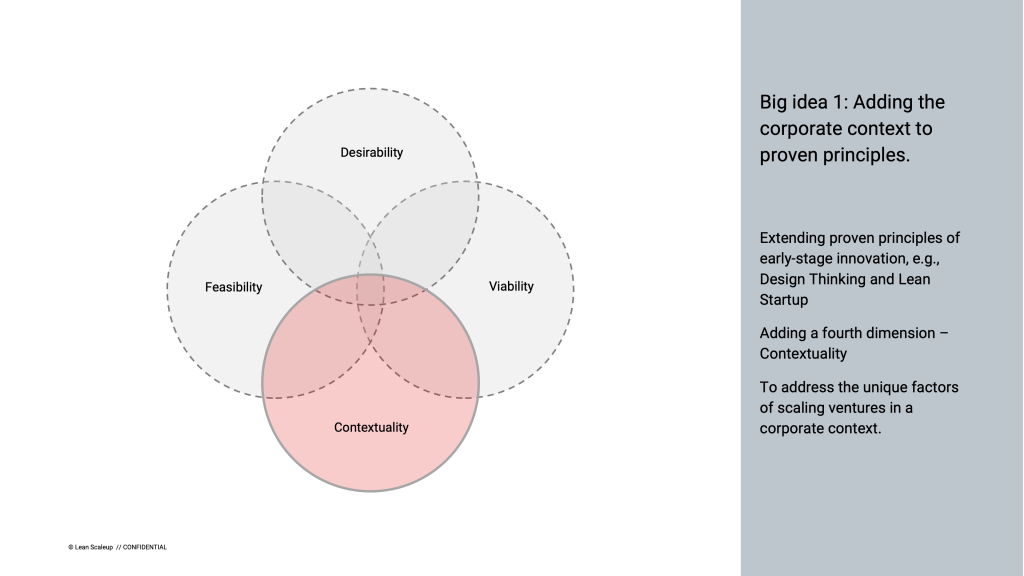 Big idea 2: The end-to-end journey
Most companies do not have an end-to-end view on their business building process either. In their playbooks one typically finds a lot of detail in the very early stages of the innovation journey (undervaluing the corporate context, see above).
But the typical corporate playbook for business building falls short on several aspects:
Their maturity stages focuses on product ("Minimum Viable Product", "Product/market-fit", etc.) and not on business.
The validation part of these playbooks focus on "worthy to be scaled" and undervalue "ready to be scaled"
They do not have a dedicated phase "Transition to Scaling-Up" in which the set-up for success between Innovation, respectively the corporate startup; and Core is established
They do not provide guidance on the Scaling-up phase. However, if the corporate startup does not scale successfully, it will not capture the value of the new business model concept – in other words, all previous activity was just a cost hobby
The Lean Scaleup framework provides actionable guidance. The guidance is so actionable that one of our clients has developed a SaaS solution that guides innovation teams step-by-step through the entire business building journey. The Lean Scaleup framework has this end-to-end view, from idea to scale.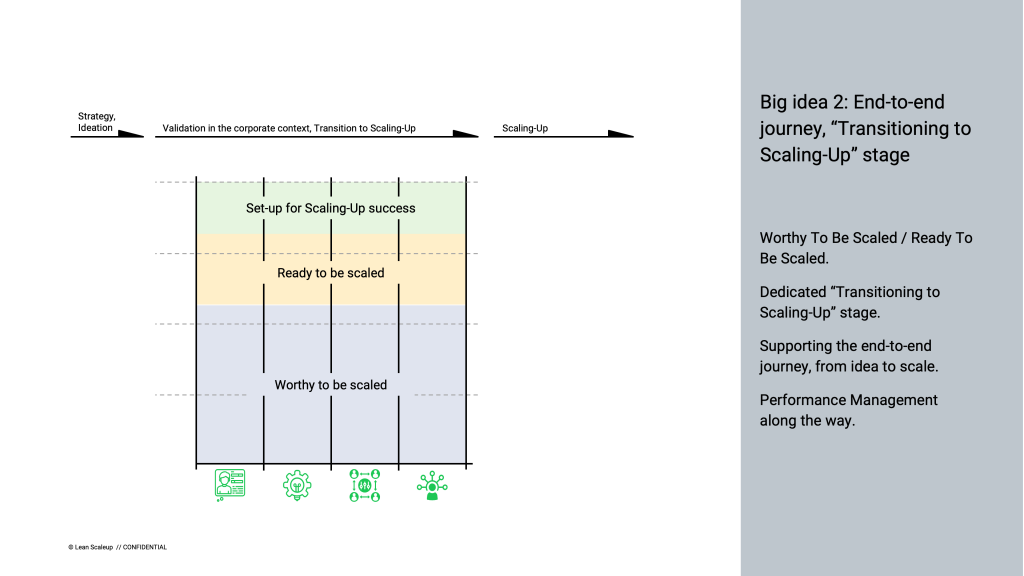 Big idea 3: A gearbox with three cog wheels
To solve the business building problem and to advance corporate entrepreneurship, companies need to connect their two value creation systems: The NOW system (the day-to-day business) and the NEW system (Innovation, respectively the individual corporate startup). Both systems are needed to future-proof the company, but these systems are not compatible (see HERE).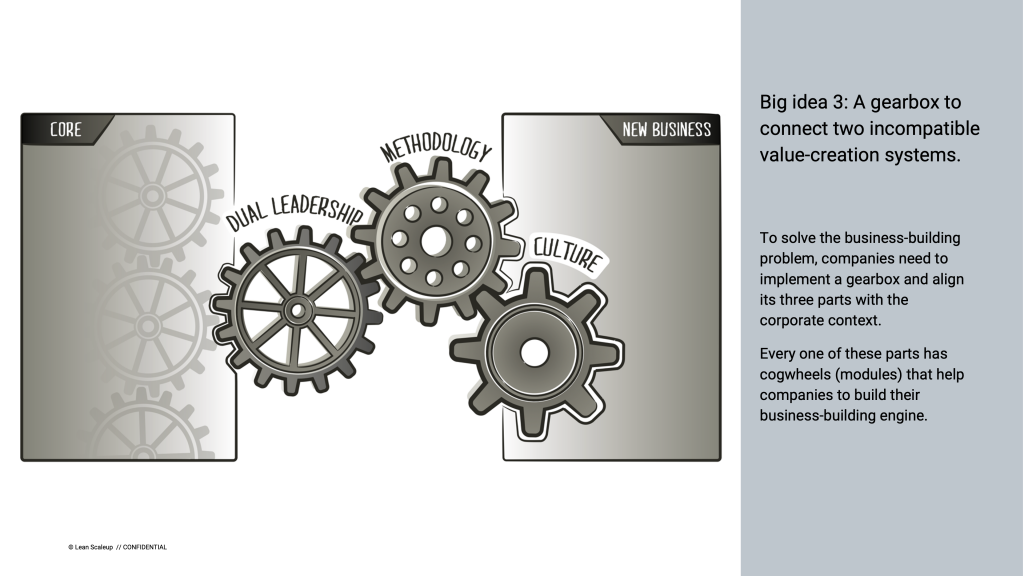 When the 20+ industry-leading companies and the two globally leading business schools who co-created the Lean Scaleup framework analyzed the issues that companies face in their business building ambitions they identified three levers that companies need to pull:
Methodology, the "How To". An end-to-end process with right-sized jumps / gates. A structured validation with increasing depth A level-1 language that is free of innovation jargon. "Worthy to be scaled" and "Ready to be Scaled." A dedicated stage "Transition to Scaling-Up" to align Core business and the corporate startup. Guidance for running the Scaling-Up phase
Dual Leadership. Align Senior Management on the Why, What and How of business building. Align the corporate startup with Core's trajectory to maintain a productive collaboration over a 3-5-years period. Protect the corporate startup and arrange a "startup-ish" autonomy in the corporate context. Build the ambidexterity mindset in Middle Management and nourish a blend of cultures
People and culture. Define right people profiles, select the right people for critical positions and arrange empowered teams. Ensure that teams have the required capabilities. Ensure that teams have the right culture. Ensure a productive collaboration between Core and scaleup