Lean Scaleup LLC
Grillparzerstr. 4
D-65187 Wiesbaden
(Germany)
©2022 | All Rights Reserved
How Can We Help You?
We help companies to upgrade their business building capability. Typical assignments center around four themes:
Assess, accelerate, and scale corporate startups.

Assess the 'New-business building Operating System' and recommend upgrades.

Align Core and Innovation.

Define Core/scaleup collaboration models.
How to assess the Status Quo and outline the Next Level.
The Lean Scaleup new-business building assessment is a 2-3-month process. You get
a comprehensive, in-depth evaluation of the current state, and
a sketch of your company's Next Level in new-business-building.
We pinpoint where your company's ventures are on their journey and evaluate the health of the venture portfolio. We benchmark your company's framework and its 'new-business building infrastructure' against Best Practices. With these insights, we sketch where your company should go – and what the 'two next steps' should be.
Optionally, we add a survey and a management workshop. The survey ensures that the voices of key people in new-business building are heard. The insights from this survey paint an even clearer picture of your company's situation.
Based on all these insights, we design and run an impactful half-day management workshop. This is a good opportunity for you to align with your stakeholders, lead the discussion and develop an effective strategy for moving forward.
Learn More
How to build momentum at the Senior Management level.
Some of our clients opted to start our common journey with building consensus and motivation among the key stakeholders. Our custom-made Peer Groups support this ambition. This a process that spans 2 to 3 months. You get
a shared stakeholder view on the challenges of new-business building,
ideas from peer companies how to overcome them,
a private 'Advisory Board' from distinguished peers,
encouragement and momentum to start the journey, and
sometimes opportunities for co-innovation with other companies
We start of by one-on-one discussions with the key stakeholders and come up with a consolidated and prioritized list of issues that should be discussed.
Next, we use this list to identify non-competitive, relevant companies. These companies have already solved the same issues. Once you have selected the companies that you want to have in the Peer Group, we bring in the right people from those companies. These are (S)VPs who were part of finding solutions for their own companies.
Subsequently, the company's stakeholders convene with these peers for a concentrated half-day session. We guide the discourse, document the key points and augment the report with outlining meaningful trajectories and 'two next steps.'
How to determine if your venture is ready for Scaling-Up.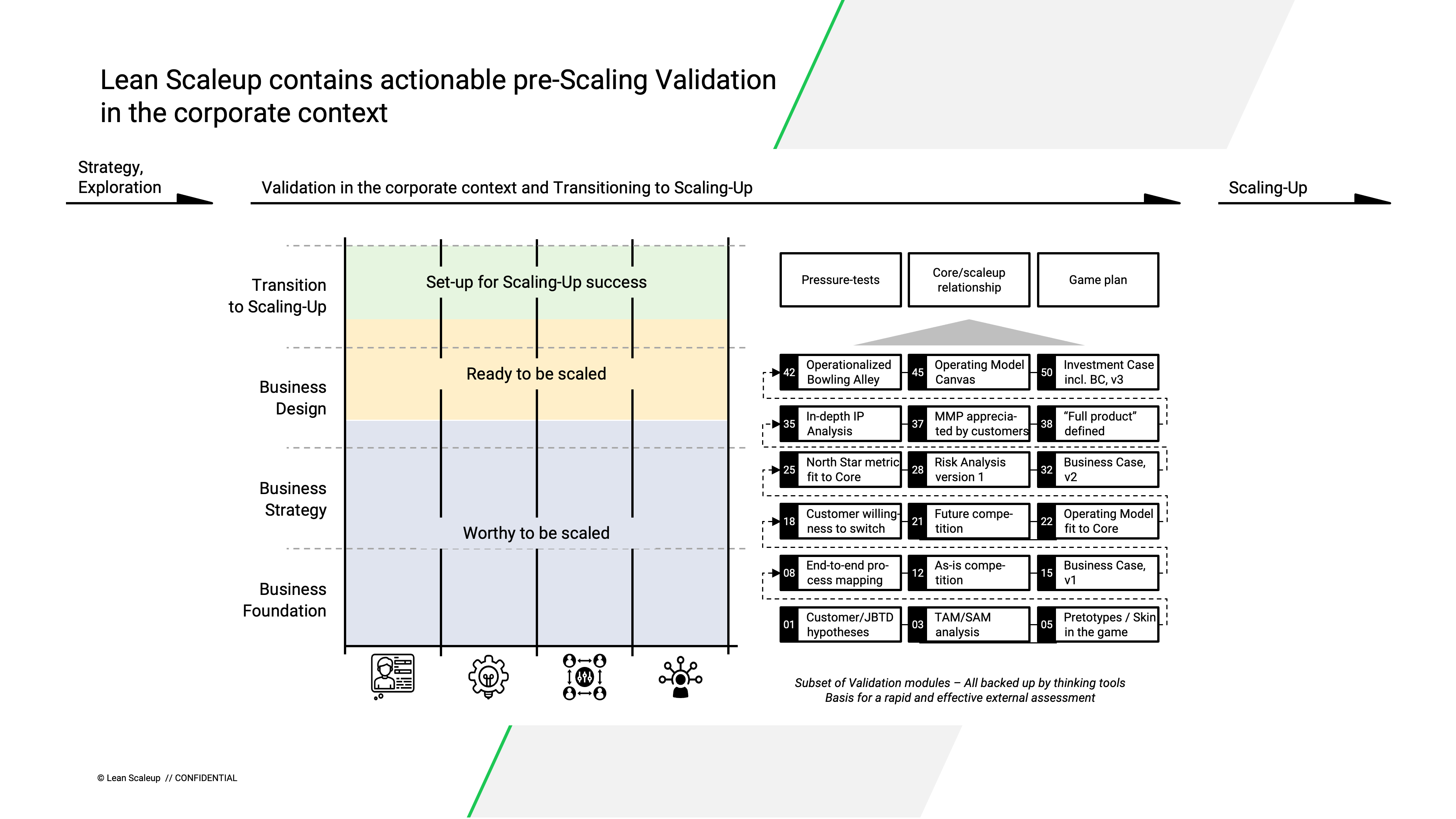 What you get: A precise scorecard for your venture, including indication of gaps to be closed before Scaling-Up.
Typical Quick Wins: Increased efficiency and effectiveness in Validation; Augmentation of the existing Validation approach.
---
More than 20 industry-leading companies and two leading business schools agree: The trick in validating corporate startups is to validate "worthy to be scaled," "ready to be scaled" and the corporate context. Missing out on one of these could easily lead to failure.
But how do you work through these issues efficiently and rapidly?
In a joint validation project, your teams can get access to the Lean Scaleup pre-Scaling toolbox. This toolbox contains the essence of dozens of validation projects in many industries. The content is organized by maturity stages and validation tracks and pinpoints deliverables and relevant thinking tools — all on a user-friendly SaaS platform. Think of this toolbox as your step-by-step guide.
With this toolbox, we construct a scorecard that pinpoints where your venture is on its journey and what is missing to make a substantiated decision on Scaling-Up.
I'd like to discuss
How to transition a validated innovation concept to Scaling-Up.
What you get: A set-up for your venture's Scaling-Up success.
Typical Quick Win: Well-defined milestones for metered funding and lean governance. Alignment between day-to-day business and the scaleup.
---
To succeed in Scaling-Up, you need to have a set-up for success. This set-up is created in a transitional phase between Validation and Scaling-Up. In this phase, day-to-day business and the corporate scaleup align and agree on the collaboration to de-risk and accelerate the Scaling-Up journey.
Without this, it will not be possible to materialize the theoretical "unfair advantage."
Even worse, there will be permanent "areas of tension" between the day-to-day business and the scaleup – slowing down and eventually endangering the success of the scaleup.
In this transitional phase, we typically pressure-test key assumptions about scalability. We establish alignment, including the collaboration model with the relevant corporate functions. We develop a Scaling-Up plan, including milestones and metered funding requirements, and a 100-day plan so that the scaleup gets off the ground quickly after the Scaling-Up decision.
I'd like to discuss
How to de-risk and accelerate a portfolio of ventures.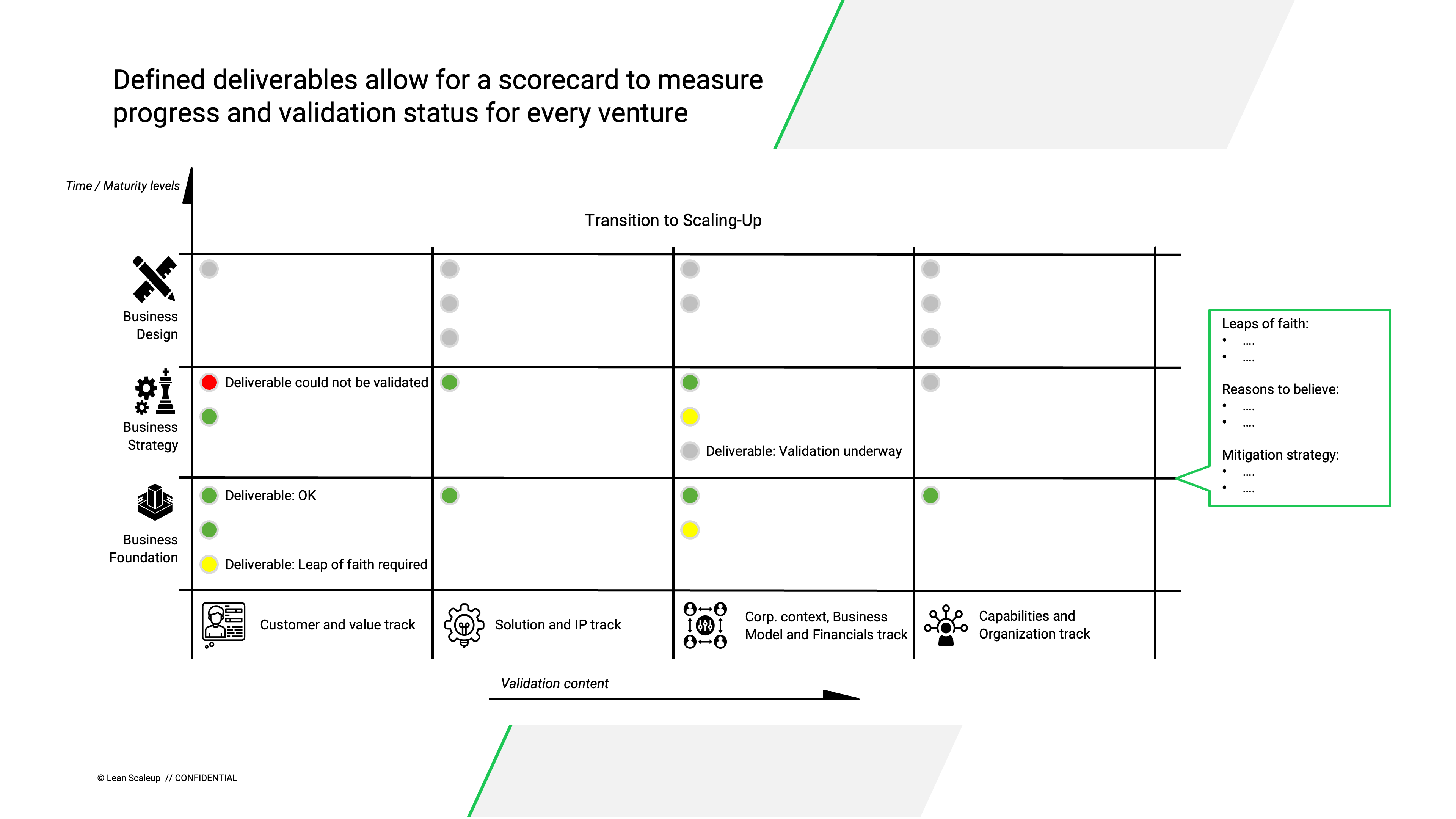 What you get: A blueprint for advancing the incubator's operating model towards 'Diligent Entrepreneurship.'
Typical Quick Win: Scorecard for a venture's position on its innovation journey, pinpointing the gaps to be closed.
---
Almost any large company has an Innovation Center, Business Model Incubator, Digital Lab, etc. these days.
But all too often, the teams work with ineffective approaches. They …
use methodology that is not fit-for-purpose (designed for VC-backed startups, but not for a corporate context)
are too distant from Core's decision-making priorities
work too much behind their desk and spend too little time with potential customers
do not have a mandate for the end-to-end process — their scope is limited to the early stages of the innovation journey.
We help your explorative unit to achieve what we call 'Diligent Entrepreneurship.'
This approach builds on seven pillars:
A well-structured pre-Scaling journey, built on defined maturity stages and defined validation tracks
Thinking tools for every deliverable that address the "so what" and help to decide whether the deliverable has been achieved
A well-defined corporate context in which the corporate startup is aligned with the corporate trajectory and the strategic priorities of the corporate functions
A scorecard that shows the status of the deliverables and hence pinpoints where exactly the corporate startup is on its innovation journey
Clearly identified 'leaps of faith' – areas that could not be fully validated
A lean governance board where the board members understand the validation principles
A funding apparatus that is tied to maturity milestones
I'd like to discuss
How to mitigate the tensions between Core and Innovation.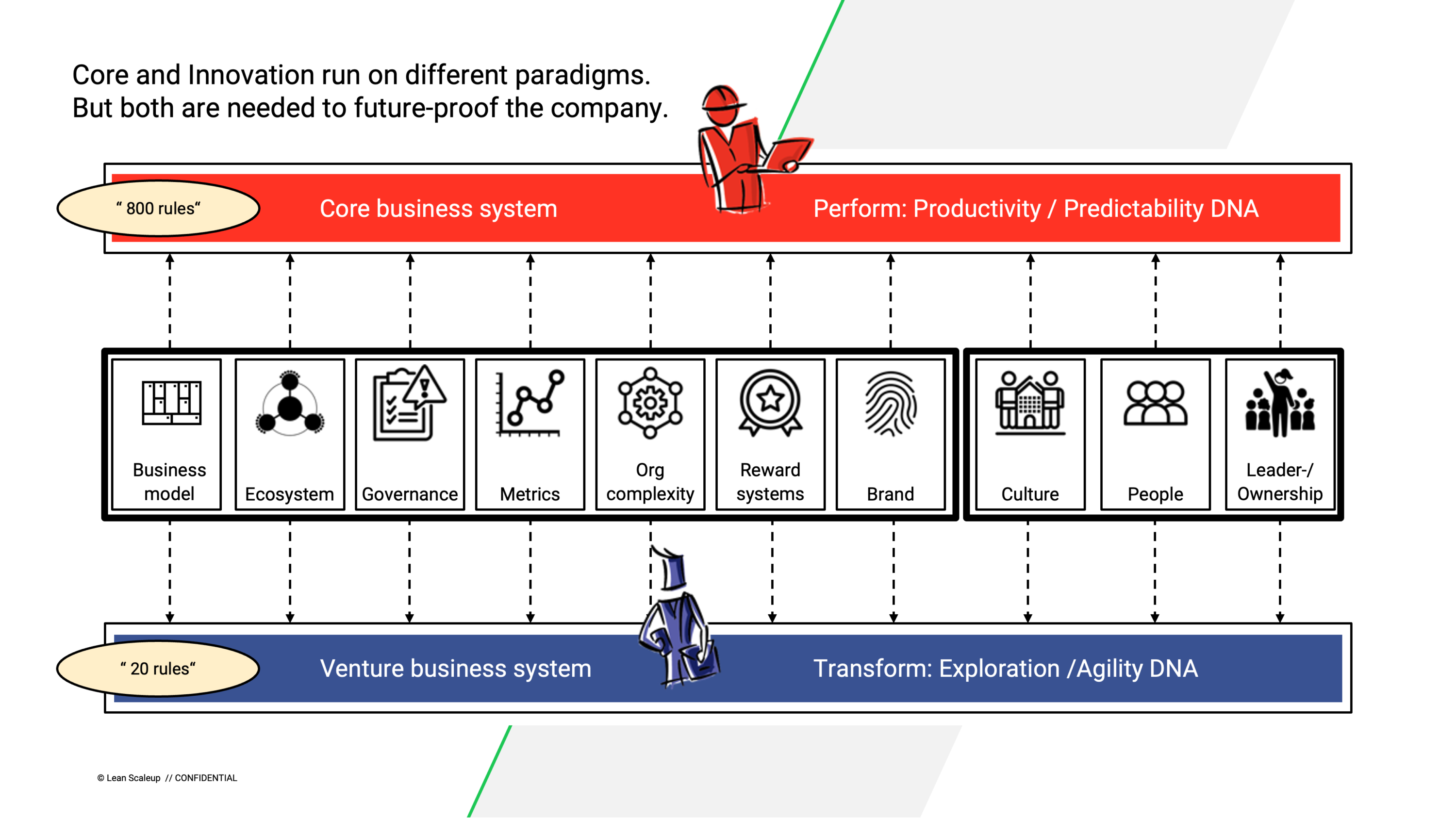 What you get: An outline how to solve the inherent ambidexterity problem for your company.
Typical Quick Win: A common language between Core's Senior Management and Innovation, increasing the efficiency and effectiveness of subsequent discussions.
---
Core – the day-to-day business – and Innovation build on two incompatible management systems. The former builds on flawless execution of defined processes to deliver predictable productivity, the latter on agile reduction of uncertainties to capture new value pools with a scalable business and operating models.
Both systems are needed to future-proof the company – the former "pays the salaries", the latter "pays the pension." We help our clients to make ambidexterity work by focusing on the aspects that matter most:
Are you clear on what you want to achieve and how to measure success?
Can you inspire your teams with a true purpose?
Do your people experience the purpose they were sold?
Is your business really ready to scale?
Do you have a genuine learning culture?
Do you have an overarching goal and portfolio management?
What is the right organizational home for scaleups?
What do you need to arrange to get an effective gearbox?
Where are new structures needed and what can remain inside existing structures?
How do you empower the "Pirates in the Navy" – the venture leaders and their teams – to work effectively in the areas of tension between the two systems?
I'd like to discuss
How to secure corporate support beyond funding.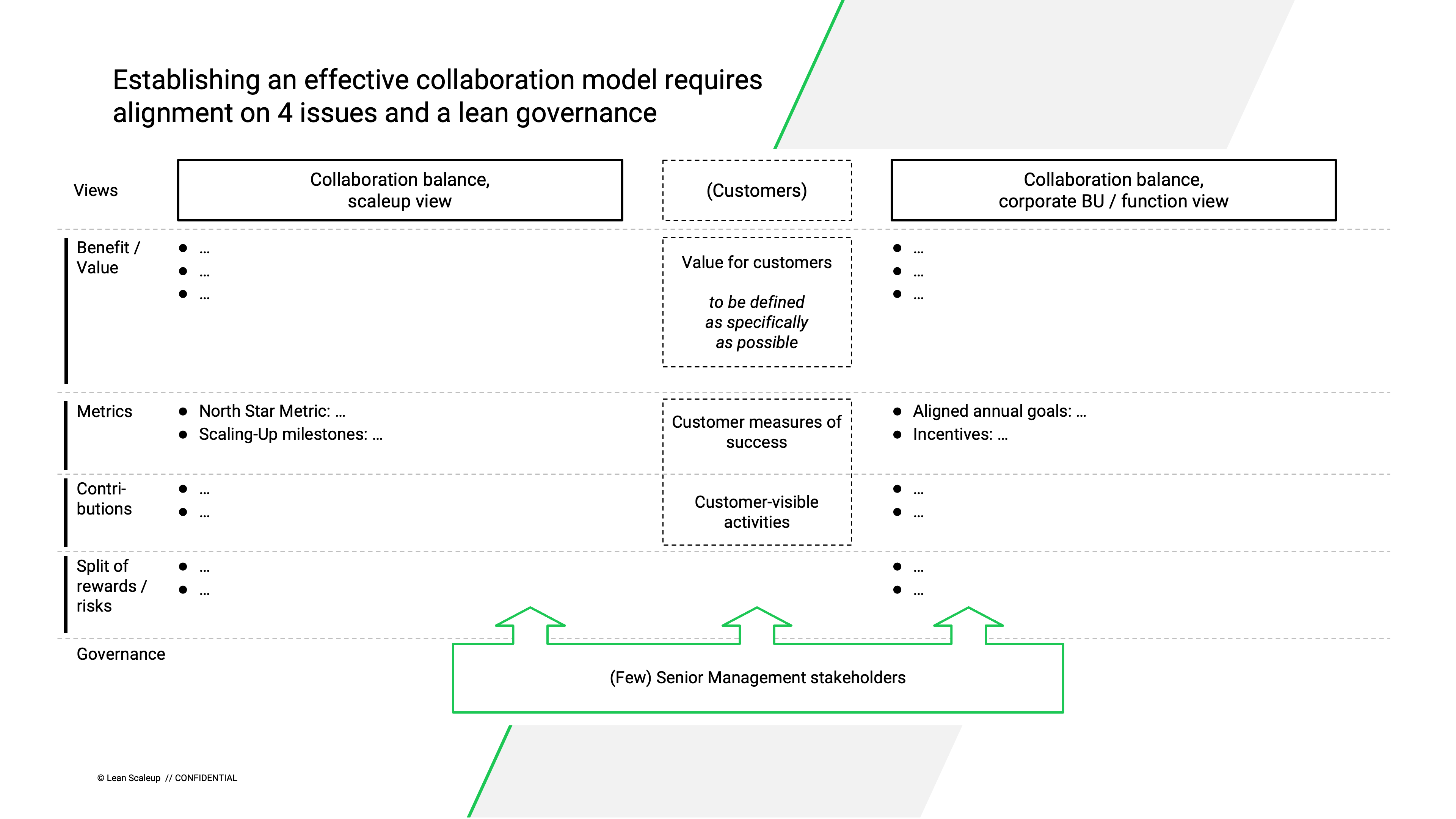 What you get: A Senior Management pitch – backed by real-life cases from other companies – to get the right set-up fast: The collaboration with Core's relevant functions and an effective, lean governance.
Typical Quick Win: Identification of the decisive corporate assets and capabilities to remove Scaling-Up roadblocks and to accelerate and de-risk the journey.
---
One of the fundamental challenges in corporate business building is how to align Core and the scaleup to create the 'power of both': The global scale of the corporate, without the bureaucracy, and the agility and speed of a startup, without the chaos.
This alignment does not come by itself. Core and the scaleup have their own agenda, goals, and incentives. These are different and, in most cases, incompatible. The trick is to embed the scaleup's goals into the KPIs of Core's relevant functions and to establish a solid collaboration model. By doing so, Core's functions have an incentive to support Scaling-Up.
The collaboration model creates an environment in which both ventures and core are aligned towards the success and growth of the initiatives. The alignment comprises 'hard factors' such as KPIs and well-defined resource secondments but also 'soft factors' such as the culture in working together. The idea is not to aim at changing the culture directly, but rather to create structures and an environment where the 'power of both' can unfold.     
I'd like to discuss
The References.
Companies that co-created / work with The Lean Scaleup framework.
Click on one of the headline items to filter by category.
All
B2B
B2C
Discrete Manufacturing
Financial Services
Mobility & Logistics
Process Industries
TIME industries